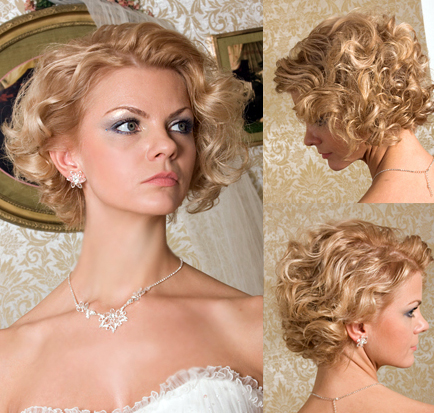 In a previous post, I have the various bob hairstyles that a bride can wear on her wedding. Let me continue by suggesting two more short wedding hairstyles.
The curly short hairstyle. Your wavy hair may is just the right time to show off those curls. To boost your curls and calm them, apply frizz serum on your hair. Accentuate with a headband or some elegant-looking clips to build structure and shape. White rosebuds or any dainty white flowers can also be worn.
The pixie or the short-layered wedding hairstyle. This is created by having short-layered hair at the back and messed up and spiked at the back similar to a bead head. Keep hair a bit longer in front. You can have it parted at the side or have some straight bangs. Pair it off with a pretty short veil and chandelier earrings. Accessories that you can wear can either be a modern hair band placed on the side, a fine-toothed Alice headdress or a tiny flower slipped at the back of one ear.