One of the biggest hurdles that any bride will face on her wedding preparation is choosing the wedding hairstyle. A bride can opt to have a simple hairdo to play safe. Some may want to try other hairstyles that they saw in a bridal blog or magazine. The bottom line is regardless of what hairstyle you choose do not ever sacrifice losing your identity. Choose a hairstyle that suits you and something that will make your guests particularly your groom pleased and proud.
Choose something that you like and feel comfortable on wearing. Hiring a wedding hairstylist is a good and practical move. Listen to her suggestions. It is vital to choose a hairstyle that suits your personality.
Think about your wedding dress, as this plays an important factor on what type of hairdo to wear. Likewise, consider your veil as well as the jewelries you will wear on your big day. It would also be wise if you would also know how your future husband will wear his hair.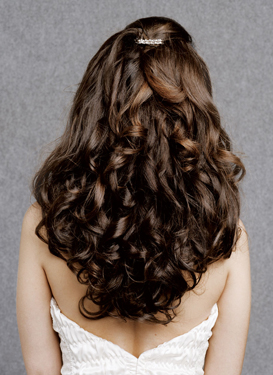 Long and flowing wavy hairstyles suit a wedding dress with a low cut neckline that exposes the shoulders and chest.
The updo or high bun is more appropriate for high-neck wedding dresses.
Look glamorous by choosing a topknot wedding hairstyle. This will frame your best features and will accentuate your eyes and lips.