Gone are the days when brides need to grow their hair long for a nice-looking hairstyle. Today's fashion opened several wedding hairstyle options including having a short, sleek and sharp hair cut.
To achieve a modern, chic and short hairstyle, it is important that you choose one that suits the shape of your face. The cut must enhance your features. If your hair is already short, it would be better to augment its style rather than try a new one.
Trim hair if you choose to have a short hairstyle 10 days prior to your wedding.
Blow your hair dry on the day of the wedding. Make hair look shiny by misting it with some shine spray.
Do not go overboard with accessories. Keep it simple. Wear a single flower or clip.
A headband with a pearl accentuation will look nice, too; but make sure it fits your wedding dress.
Another hair accessory that you can wear with a short wedding hairstyle is a tiara.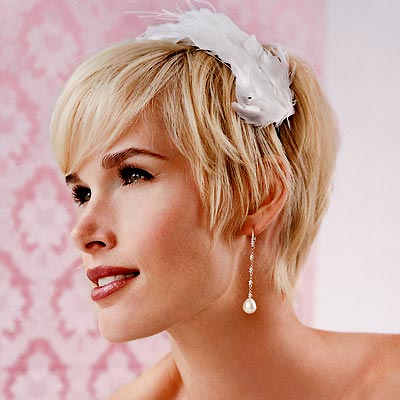 Wearing a veil is not a problem, too, as there are plenty of styles that can be worn with a short wedding hairstyle.