To make the most of your wedding hairstyle trial, you need to observe the following rules:
Have enough time to search for a hairstylist. Three months prior to the wedding is suggested; however, if you are getting married during the peak season, then give it at least six months. The trial should be at least one hour and get to do more than one hair test. Have at least 2-3 trials until you find a style that you are comfortable to wear and love.
Prepare your hair properly by washing and blow drying it on the eve of the trial. You can use a flat iron to tame your frizz; but leave your curly as is. Working with your natural hair texture is better particularly if the weather is humid.
Choose different pictures of hairstyles and bring them with you. A good source to get these pictures is from the Web. Try Pinterest – this social media has a lot of hairstyles to offer from different angles. Your hairstylist can work on this and include some elements.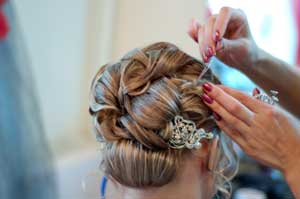 Your wedding hairstylist would come out with a good hairstyle if you come prepared during your trial.