Short hair should not be a big issue to any bride. Contrary to what others believed, short hair can be made striking. There are plenty of short wedding hairstyles available for any bride.
• Use hair spray to keep hair in place and comb it back.
• Use a glossing serum to keep your hair looking shiny.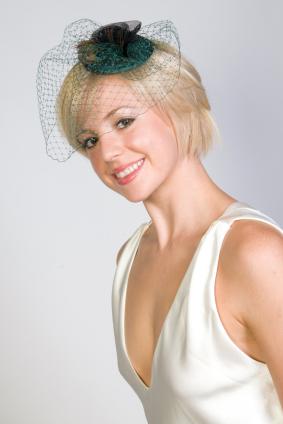 • For a feminine look, make use of hair accessories. These can make your short hairstyle more elegant and glamorous.
• Wear an especially-made bridal headband. You can opt to choose one that has a gem or pin crystal for a more enchanting look. A fur headband is another good option or some stylish hair pins.
• Silk flowers fastened to your veil or headband is definitely feminine-looking. The use of a crystal crown or tiara will add shine to your short hair.
Check bridal blogs and magazines for the different short wedding hairstyles. Bear in mind that even without accessories, a short wedding hairstyle will still look modish and attractive. Brides should not worry so much for having short hair. It is so easy to solve this problem. If you want to have a long hair or a medium-length hair, you can choose to wear hair extensions. Short or long hair, you will still remain the radiant bride on your wedding.