One kind of hairstyle that is very popular in any occasion is the bun, which has several variations. One such variation is the rose-shaped bun that any bride can have as their wedding hairstyle.
Create loads of texture by sprinkling texturizing powder at the hair roots. Get a tapered curling iron and make curls in any direction.
Make a first section starting from your left temple to your right ear. Tease this section and make a slack braid. Leave a few strands to have a messy look. Tie the end of the braid with elastic.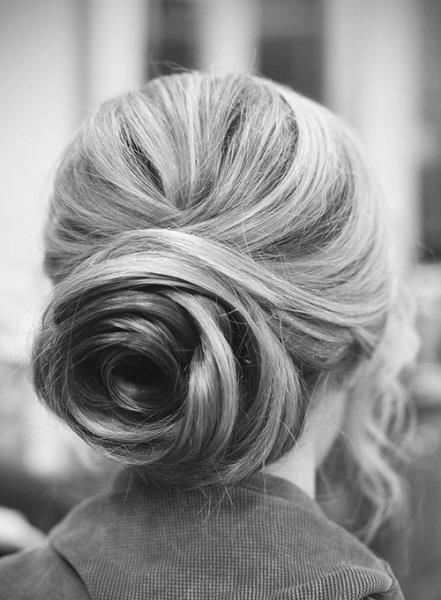 Get another section from your temple moving down to your nape. Make a low slack braid and pull some strands for a messy look. Secure braid with elastic.
Gather the remaining section and tease its roots then braid. This will be the inmost braid. Make it loose and keep it neat and clean. Secure it with elastic.
Get the big braid at the nape. Roll it into the slack root area and pin it at the nape. This is the inmost rose bud.
Get the other two big slack braids and surround the inmost bud – one on top and the other beneath the inmost bun. Fasten with bobby pins and spritz hairspray for a neat look. Have a shiny finish by spraying shine mist on the bun.
Reminder: Tuck the elastic under the braids to hide the elastic bands. This wedding hairstyle suits any wedding theme.