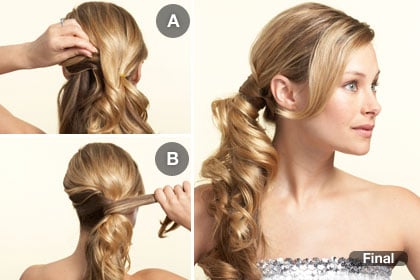 Any bride whose hair is long or medium can opt to wear the side-swept wedding hairstyle. The materials that you would need are: 1-inch curling iron, bobby pins and hairspray.
Part your hair on the sides. From the bigger side, smooth the front section starting from the ear to remove any bumps. Twist this section upward. Do it several times toward the part.
Use bobby pins to fasten the hair on the line of the coil. Criss-cross the pins at the end of the coil. Repeat the same procedure on the smaller side of the part.
Separate the remaining part of your hair at the back to create 1-inch sections. Get your curling iron and wrap the hair around it. Make a spiral by holding the curling iron vertically.
When you are finished curling all the sections of hair, spritz a generous amount of hairspray. Loosen the waves by shaking the hair moderately.
It is so easy, right? You can wear the side-swept wedding hairstyle for both formal and informal types of weddings.