After you have chosen the right bridal dress, the next thing that you need to think of is your wedding hairstyle. A perfect hairstyle is something that suits your personality, your wedding dress and theme. Knowing all of these will absolutely guide you on choosing the hairstyle that suits you on your wedding day.
Do not put off deciding on the appropriate wedding hairstyle. Check out bridal sites, blogs, magazines and search for a skilled hairstylist. Ask for referrals from friends and relatives. Collect these pictures and show them to the hairstylist.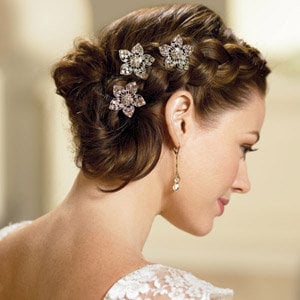 Do not color or have a haircut before your wedding day. This should be done 15 days prior to the big day.
Do not forget the style of your veil. Choose a hairstyle that goes well with the veil to avoid unpleasant incidents.
Do not disregard the climate. Weather plays an important role on your look; thus, it must be considered when selecting for a hairstyle and makeup. Always be ready for unforeseen events.
Finally, do not overlook the need for a lasting wedding hairstyle. Choose one that will stay as is until the end of the celebration. Make sure that you have enough stocks of hair pins and hairspray.