Hiring a professional wedding hairstylist is one of the best things that you can do to make your wedding more memorable and organized. Apart from taking away the worries on what hairstyle will suit you, you also get the chance to have a tryout prior to your wedding. However, this can pose some problems if you hire the same stylist for your mother and your bridesmaids.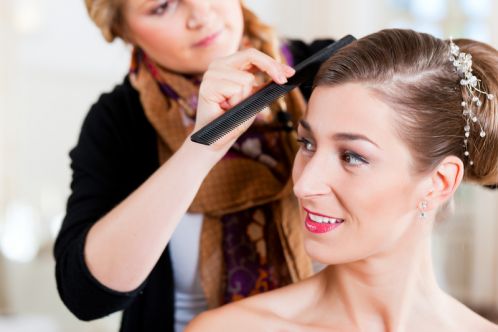 There is the question of who should go first – you, your mom or the bridesmaids. A professional hairstylist would normally take 2 – 3 hours to finish a bride's hair and makeup. This will also depend on the hairstyle that has been agreed upon. If the hairstyle is quite complicated, then expect it to be more than 3 hours. You also need to allot some time for adjustments with the hope that there is no need to start all over again (that is why it is important to choose the best and have a trial).
You have three options:
1. Ensure that the wedding hairstylist has a team to service you, your mom and your bridesmaids. Some salons can assign a team to do this job.
2. Request your bridesmaids to fix themselves and then have a bit of retouch from your wedding hairstylist.
3. Get another person who will work on your mom and bridesmaids.
But if you really want just one person to do the work, then you should be the last so you will look fresh and nice. You also need to make sure that the wedding hairstylist is a real pro and can work fast without messing up the work particularly your looks.