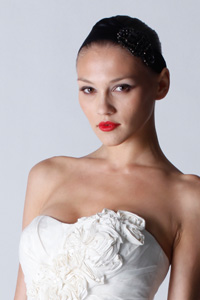 A perfect and faultless radiance is what every bride wants that can be achieved with a great wedding makeup. The trend this autumn is a bolder lip color. The following tips will help you to achieve a long-lasting lip color.
Choose cosmetic colors that will blend with your skin color as well as the style of your wedding dress and theme. Timeless and sophisticated is the trend this autumn.
Red lipstick would make any bride to look chic and mod. Select the right shade of red that will complement the tone of your skin. An orange red lip color suits brides with warm undertones while a bluish red lip color is ideal for brides with cool undertones. A neutral lip liner will make your lipstick to stay longer. Color your lips with the neutral lip liner before applying the lipstick. Blot and dust your lips moderately with powder then apply lipstick for the second time and blot it lightly. This will result to sultry red lips that will last throughout the wedding ceremony and party.